In July 2015 I suffered a stroke which left me paralysed completely down the left side. l am not able to get about very much yet and keep on delaying my return to theatre going which I love so much. I have however found an unlikely ally through my close friend Chris Brady who went to see Spine at the Sheffiel Crucible last Thursday.What follows is his review only touched on the edges by my editorial pen. I hope first of all you like it but most of all you are inspired see it for yourself. 
Spine is a short play written by Clara Brennan and I got to see it last Thursday evening at the Crucible. The first thing to say is that it was very enjoyable and I'm very glad I went. So thanks for mentioning it to me as it was a real tour de force of acting by Rosie Wyatt. It only lasted for about an hour and five minutes, but it was quick fire dialogue all the way with the actor having to maintain a very high emotional charge throughout.  It was at times very funny, poignant, rude, but always entertaining. The language, in every sense, was a delight. In format and style the play was very similar to Iphigenia in Splott which I saw earlier in the year.
The story concerns a troubled, rootless teenage girl called Amy who, having been thrown out by her family, is looking for cheap accommodation to rent. Following up on a rather ambiguous advert, she calls upon Glenda an old lady who, apparently, has rooms to let in her house.The two strike up an odd relationship. Interactions between the two form the substance of the play, although the old lady never appears on stage herself; all 'her' dialogue is re-told through the voice of the teenager.
Amy is very wayward; sexually, in terms of stealing things, and also inherently because of her hyped up, aggressive demeanor. Much of the play's humour comes from her descriptions of her 'adventures'. But it turns out that the old lady is also more interesting than she at first appears.
She and her late husband had each become committed socialists in their youth and remained so throughout their lives. They have also had quite a picaresque past. It turns out that the house is full of books; hundreds of them. These have somehow been stolen by the old lady from a local library while it was in the process of being closed by a heartless and cash strapped local authority. Apparently the old lady and her husband are not the only one to have been taking the books; many of the neighbours have been at it, and the area fair teems with knocked off stock!
The old lady sees something in the girl and persuades her to move in with her. It is unclear whether the accommodation is being rented by the girl, but probably not; it is more a quid pro quo for some companionship that she can provide for the old lady and an opportunity to try to take the girl under her wing. After the girl moves in the old lady gets to work on her, coaxing, cajoling, giving her some time and attention and generally trying to open her eyes to her own potential and the opportunities that could be available to her. The role of books in this process is emphasised.
From there, the argument seems to shift from the particular to the general. If books can have such a redemptive effect on the girl, then couldn't they do so more widely on people in the local community? There is a strong blast against short-sighted government/councils (the detail is not pursued) closing down libraries and other community cultural assets to the detriment of the life chances of many of their poorer constituents. Some observers took this as the main thrust of the play and certainly it was put forward with some vigour.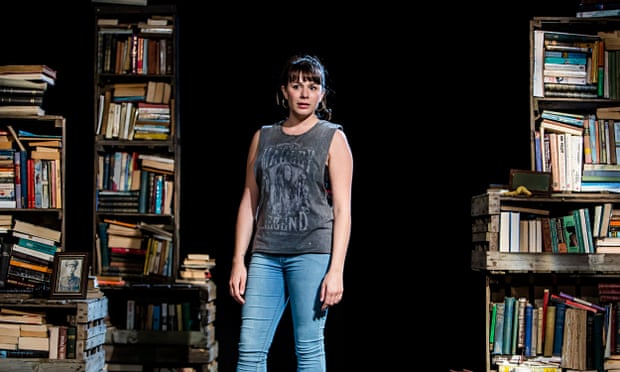 Over time the old lady has some success with the girl who begins to resume her A level studies and even (implausibly) learns a bit of Latin. She also tries to inculcate a socialist awareness in the girl and talks to her about a future in politics. Eventually the old lady dies, leaving her house and book collection to the girl, along with a suggestion that she might want to start her political career by organising a community library in the premises and roping in her neighbours to help. The girl faces a dilemma; whether to commit to some community role that she has never really considered previously or whether to benefit financially from the inheritance and blow it all on personal pleasure. In the end a decision is made.
Unlike local reviews, I took the main thrust of the play to be the possibility of personal redemption; in this case given the young person's access to an older mentor's time, attention and belief in the girl. The books and the library seemed more like a hook on which to hang this theme and to help give the play a structure. It is a bit clunky and perhaps gives rise to some ambiguity. I also think that there were bits that strained credulity; they strained mine anyway! I've already mentioned learning Latin; but also going back to school? I am reminded of Tommy Cooper; ''just like that!''
But still, it was only an hour long, not like the complete works of Shakespeare. And it was funny, witty, gripping, well acted, moving; it might be a bit much to demand realism as well.
Finally, when the actor came on at the end to take her bow she had, of course, shed her stage persona and stood there smiling; for all the world a thoroughly pleasant young woman. How obvious, but how odd: a vivid tribute to the actor's craft and what a theatrical triumph.